My Little Black Princess
by Amber
(Glendale, AZ)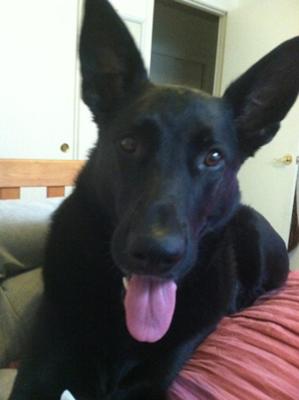 black German Shepherd Roxi
Roxi is a 3 year old Black German Shepherd.


Her favorite things to do are go to the dog park, go on walks, play fetch, play tug-of-war, play "find it," and cuddle with her momma.
Total German Shepherd
:
Hey Amber,
Your Roxi is one fine looking German Shepherd! I absolutely love the black GSD's. I've had a couple over the years and when they are clean they are absolutely stunning looking dogs.
Heck, even if they're dirty I still love them. But then I am a little bit biased - I'll be the first to admit it. LOL!
Her ear set is really nice and she looks to be in great condition based on the picture you have sent in too. Thanks so much for sharing her with us all here.
A lot of times people don't get to see as many examples of black or white GSDs, and some people are even afraid of the blacks and think they're mean for some reason, so I appreciate you sharing her here.
That lovely smile says a lot about her. I'm sure she's your number one fan and best sweet heart too. Continued success with her. And feel free to share some more about her if you'd like with us all in the future!