My Little Girl Forever, My German Shepherd Adie - RIP
by Becca
(Illinois)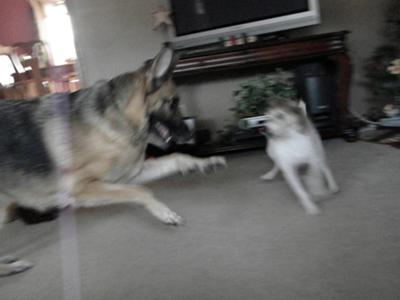 Playing with cousin Pheobe- one of her favorite things to do.
almost three months ago I lost my little girl. She was my baby and my best friend. Loosing her so unexpectedly was like a knife to the heart.
Adie was five years old and was suffering unknowingly of pain due to an abdominal tumor. I miss her dearly but am doing everything I can to keep going.
She would want that and I will do it, somehow and someway. I can't wait to hold her again one day.
Total German Shepherd
:
Becca, Let me say right up front that I am so very sorry for your loss. I am so very sorry for your loss of your German Shepherd, Adie. It is so very hard to lose a friend and companion German Shepherd at any time but your memories will help you through it all. Your memories will stick with you forever and help through your grieveing process. But thank you so much for sharing your story about your German Shepherd Dog, Adie, here with us all at Total German Shepherd. We all grieve along with you.
And I'd like to take the time to say thanks to all our visitors for reading along with us. If you get the chance, please come back often to see what else is going on in our developing German Shepherd Dog neighborhood.