My New German Shepherd Rescue, Lexi
by Pam Pfeifer
(Knoxville, tn, usa)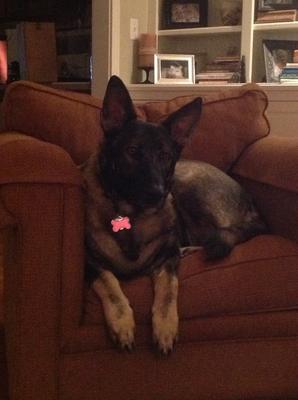 She looks comfortable, huh?
I had a German Shepherd as a child, but as an adult had had only cats. When we finally decided it was time for a dog I told my husband I wanted another German Shepherd.


I really wanted a purebred, but wanted to rescue one from a shelter. You would not believe how many you can find. All the shelters have pics online now and I would look through them, call and ask about each one I saw. The people at the shelters were amazingly knowledgable about the dogs in their care and whether they would be good for kids and cats.
It took about 6 months of looking until we found Lexi. She was a one year old pure bred whose owner said he didn't realize he had gotten too old for such a big dog. She wasn't house trained, had solely lived outside, but hadn't been abused.
She was incredibly hyper when I got her. I walked her for an hour every morning and every evening for 6 months until her energy level finally calmed. And thankfully she hasn't killed the cat, but she has killed bunnies, squirrels, and a possum. One time she snatched a squirrel right off the tree while we were walking on the leash!
But what a good dog! She has learned to sit, stay, lie down, heel on the leash, shake and speak. At night I tell her "It's bedtime" and she goes right to her crate. If she could shut the door she would. She's always by my side , wherever I go. She only barks when someone is at the door and she's protective of her family while not being aggressive or vicious.
I encourage everyone to rescue a dog. I see many German Shepherds for sale for $1500 or more. Lexi cost $90 and came spade with all her shots. She hasn't had a single health problem not skin or hips which many in this breed can have. We've had her for 4 years now and I can't imagine life without her. She's my best friend.