My one year old German Shepherd, Aries
by Jeneen Bianco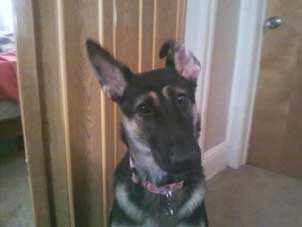 This is how my one year old German Shepherd, Aries, woke up from her nap! Aries is my #1 mush-mush, who thinks she's a lap dog.
She sleeps with me every night, and acts as my alarm clock every morning by tapping me on the shoulder until I wake up.
Aries loves to play fetch, catch, chase and "find it". She loves pizza, night time cookies and anything that belongs to my daughter.
Her dislikes are the vacumm, bath time and my singing. I guess she's telling me not to quit my day job.