My Own Perfect German Shepherd Dog
by Alexis Brynolfson-Roy
(Albany, NY)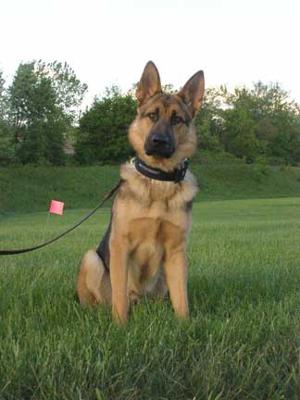 What a Handsome Fella!
Aiden is a 10 month old purebred German Shepherd Dog. I adopted him at 5 months old, after he was returned to his breeder by his previous owner.
He lived at the veterinary hospital at which I am currently employed for about 2 months before I took him home. It was love at first sight.
At first, I thought I would just foster Aiden until he could find a permanent home, but I quickly reailized that his permanent home could only be with me. Since taking Aiden into my home, we have become almost inseparable.
We participate in Schutzhund training classes two to three times a week and frequently go swimming to cool off in the summer heat.
To me, he exemplifies the perfect German Shepherd Dog.
Total German Shepherd
:
Hi there Alexis. What a great German Shepherd puppy rescue story.Thanks so much for taking the time to come here and share your own German Shepherd rescue story with us all. Aiden is so very lucky to have you come into his life - and I am sure that you feel the same way too. And continued success to you both. He's truly one handsome and lucky boy!