My Poor German Shepherd, Dolly Dog - RIP
by Peggy
(San Diego, CA, USA)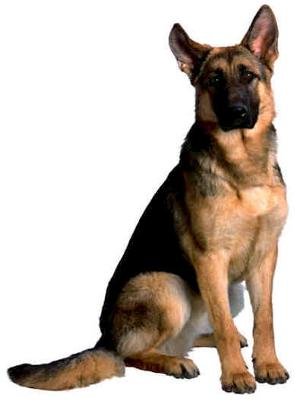 Dolly Dog came to me 6 years ago as a rescue at 10 years old. She had pyometra and the original person sent a very sick dog, who was dehydrated and could barely walk, with her teenage children to various vets who all told them the same thing, that she needed a hysterectomy.


The dog ended up in Tecate, Mexico,via a pet assistance group. This vet worked night and day to save her. When the woman retrieved her dog from the vet, she was given very specific aftercare instructions.
Instead of taking care of the dog, she went on a cruise and left her in the care of her teenage children. As a result, the dog got sicker and ended back in Tecate. The vet once again worked hard to save her.
The owner failed to pay the bill or come get the dog, so the vet gave the dog to a client on this side of the border and told her not to give the dog back to the owner as she would succeed in killing her.
The woman could not keep the dog, the big dog rescues were full and the pound was not an option, so she was offered to me. The day I picked her up she weighed 40 pounds, and the vet said she stilled smelled like pyometra so prescribed antibiotics. The vet took copious notes and I took pictures. I had the dog microchipped, vaccinated and licensed right away.
The previous woman never did pay her bill but sued the pet assistance group for $5,000. The pet assistance people had the Mexican vet records translated and notarized. The judge threw the case out.
Shortly after I got her, she protected me from a full on attacked by a big pit bull. She ran him off and got him rolled over on his back. I never saw her look so fierce again. She was a sweet, loving, smart girl.
Dolly Dog had the most horrible hip dysplasia I've ever seen. When I got her, her thighs would fall out of joint for lack of muscle. She gained weight to about 65 pounds and stayed at that weight until the last year of her life. She had a minor heart problem. She had arthritis in her spine.
I lost her the week before Christmas. She was 16 years old. Even though I know that is a good age for a GSD, she was special, and she is missed.
My rescued chow-chow, Chowman, has been in mourning for her also He adored her and followed her everywhere. He has a place on top of a hill in our backyard he hasn't visited since she left us. He follows me around now and howls when I leave the house.
I knew when I took her home she was going to break my heart when she left, and she did. I was so blessed to have her, the 6 years went by too quickly. I love her with all my heart.