My Rabbit Hunting German Shepherd Named Jessica
by Dru
(UK)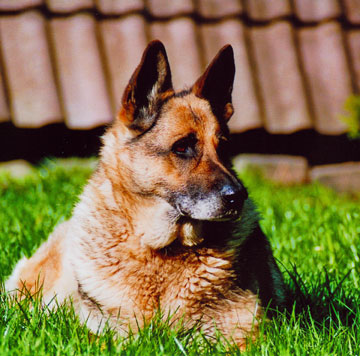 My German Shepherd was called Jessica, unfortunately she has now passed away, but I still speak to her and know she is there, which is comforting. As all owners are aware German Shepherds are a brilliant and very intelligent breed, obviously with their own personality and mannerisms.
Jessica was full of life and had a sense of humour too. Jessica also used to go, 'out on dates' and get up to all sorts of things! Her favourite 'boyfriend' was called 'Prince,' he was gorgeous, and very manly, with huge paws and a long shiny black mane. It was so funny and amazing! He used to call for her at the front door!
She then went missing till the early hours of the morning and often came back with a rabbit! I used to tell her to take the poor thing away again, to which she did; I would then see Prince up the road the next day with a rabbit in his jaws!
I guess on reflection she was bringing what she thought was a gift, but I thought it was horrible! Jessica also had two cute healthy GSD litters with Prince, to which went to local good homes; Jessica also kept in touch with her children. One German Shepherd puppy in particular called Tanya, well, that's another story!
Jessica was always supportive of me too. She always knew my moods and knew if I was sad or ill, for example. The German Shepherd and the Alsatian must be the most intelligent dogs known to man; along with the companionship and of course the love and support we share, what more could a human being desire from a dog?
Total German Shepherd
:
Let me say right up front to Dru, Jessica's mom, that I am so very sorry for your loss of your German Shepherd Dog, Jessica. I am so very sorry for the loss of your wonderful pet. We all grieve along with you in your time of loss.