My Sweet German Shepherds Shadow, and My Sweet Terra
by Nancy
(San Ramon, CA)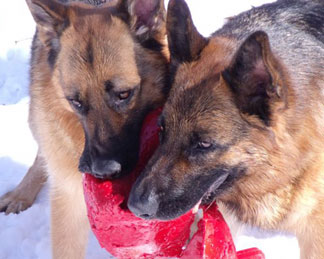 My Sweet girl was 11 a few weeks ago when I took her to the vet. We had rescued her 10 years ago from German Shepherd Rescue.
She was skinny and terribly afraid of everything and everyone. With a lot of love and nuture she became an amazing happy girl who loved her best friend Terra...our other German sheperd.
When Terra passed away 2 years ago Shadow was lost but in time she became queen of the house. She loved her toys, swimming in the pool but most of all chasing a red dot.
Now I know both Terra and Shadow are running free once again pain free and happy. I miss my girls terribly, they were the best dogs.
Total German Shepherd
:
Dear Carrol, Let me say right up front that I am so very sorry for your loss of your German Shepherd Dogs, Terra and Shadow. I am so very sorry for the loss of your wonderful pets - it is a shame you didn't get the chance to have more time together with them both. But all your memories will stay with you and help through.