My Tribute to My German Shepherd Spinner
by Beth Goff
(St Augustine, FL)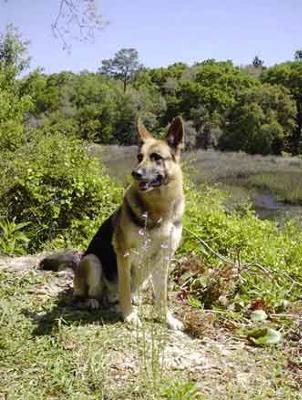 This is a picture of Spinner. She has been my constant companion for almost 14 years.
She is trained in obedience, agility and search and rescue. She had such drive and tenacity for finding people and doing everything I asked of her.
She gave me two wonderful litters of pups. A better mom you couldn't have asked for. One puppy, Bravo, became a bomb detection dog. As this picture shows, she enjoys the warm sunny days of Florida.
I feel this is a tribute to her as she has become very old and fragile. I have ordered her a wheelchair to help her get around and enjoy the last months of her life and go for the walks she loves so much.
It will be so hard to say goodbye.
Beth Goff