Need help buying my first crate for puppy!
by Bonnie V.
(Melvin, IL)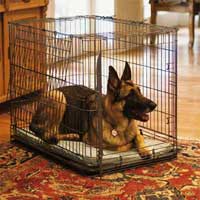 German Shepherd Dog in a Wire Crate
I will be picking up my very first german shepherd pup in about 3 weeks!! I have done so much reading, and studying on how to raise her and keep her happy. One thing I havn't been able to find is the size crate she will need when she is full grown. I will be getting this crate now, and portioning it off until she grows into it.


I am looking at one that is 48Lx30Wx32H does this sound like a good size crate for when shes full grown? (crate says will hold up to 110 lb). Any help is appreciated!! Thanks!
Total German Shepherd
:
Hey Bonnie,
What a great question. Yes, the wire crate size you have mentioned here, 48Lx30Wx32H, sounds absolutely perfect.
And just make sure that you get the kind that has the moveable partition so that you can adjust the size of the dog crate as he puppy grows. This is probably the biggest requirement that you really need to check for.
And a wire crate is a great choice to buy. Another thing to look for is additional doors if possible since these can be quite helpful too and a handle to help carry the crate if needed. As well as a plastic pan in the bottom.
So if you can find a wire dog crate that fills all these helpful tips above you will be buying an important piece of equipment that should last your dog for years to come. And thanks for asking.