Neo the Ninja German Shepherd Puppy
by Carrie
(Wv)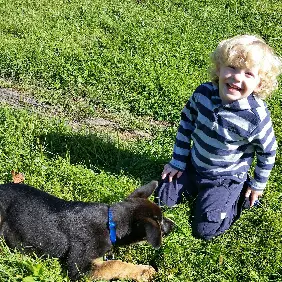 best friends
Our baby Neo is almost 16 weeks old and he has already melted our hearts and completely made himself at home! He is very intelligent, already following several commands and he recently surprised us by grabbing his leash off the chair and taking it to the door to let us know he needed out.


He is very vocal, he makes all kinds of grunts, groans and grrrs while snuggling you. He is loveable, cuddly and melts your heart with the first lick, couldn't imagine life without him, he is already a member of our family, I call him my fourth child.
My favorite part of the day is when my youngest son and I take Neo out to the field to chase crickets, I just love watching those ears go up while he bounces around like a big rabbit ♡
Total German Shepherd
: Hey Carrie,
Thanks so much for sharing you new addition with us all here at Total German Shepherd. So I take it with a name like NEO that you are a Matrix fan too :)
What a handsome little fellow he is! And I love snugglers too - my newest baby Cooper was not a snuggler when he was that age at all and I really missed it. So enjoy that all you can :)
German Shepherds are super smart, very vocal and often quite hilarious so it sounds like little Neo is just following in the breeds footsteps for sure. Get him in a puppy class if you can, socialize him like crazy as soon as he has received all his vaccines and you will be well on your way to one awesome companion.
Good luck with him in the future and continued success. If you have the chance, please send us some more picture and an update sometime in the future too - we'd all love to see how he matures.