Odd Behavior towards other dogs - is my German Shepherd protecting me?
by Dena
(Fort Myers, FL)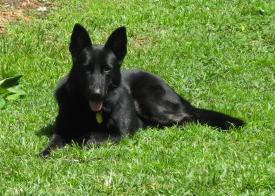 Miss Bliss enjoying the sun
I have a bi-colored GSD that I bought from a rescue group 6 months ago. They estimate she's 2.5/3 yrs old. She was abandoned after having puppies.


She is very timid of people, but has taken to me very well. She follows me everywhere and is a great companion.
I would love to see her play with other dogs. Of course, I don't know her past. She's not afraid of any noises, cars, kids, other animals, etc, but she is leary of other people.
She's very clingy, so she doesn't go explore or interact at the dog park. If another dog comes up to us, she's just fine - I can pet and hug the other dog without her reacting.
But, if another dog runs past her, she will chase after it. Not for the ball it's running after, but to catch the dog. When she gets close, she opens her mouth and then usually just runs into it (body slams).
Only once or twice has she nipped another dog once she's caught it, but I'm not sure if the other dogs were screamers or actually got nipped.
When I first started taking her, she would even run up to a dog laying down and stomp her front feet at it once she got to it. It wasn't playful at all, it seemed aggressive. She's never started a fight, never growls, doesn't dominate.
She will be standing with me and all of a sudden will charge after another dog - usually the dog isn't even looking at her or running past. She charges after it and then comes back to me (home base).
Often she will chase after a dog and you can tell the other dog goes from play chase mode to survival mode trying to out run her. Once she catches them, she acts as though she is going to attack, but just runs into them somewhat violently and then jogs comes back to me.
I've had people tell me that she's protecting me, but for some reason I don't see that. And I definately don't want to break a behavior if she is protecting me, but I just wish she would relax and play.
I usually take a football that she loves and we play catch the whole time. Other dogs will run with her or will act like they are going to take the ball and she doesn't react. No aggression... so... I'm confused!