One ear won't stand up on my German Shepherd puppy
by Skip Moore
(Chicago, Illinois, U.S.A.)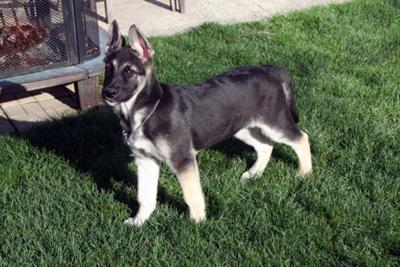 Sargent at almost 4 months old
Our 4 month old puppy had both ears up....now the left one has fallen and won't stand up...what should we do?
Total German Shepherd
: It's very common for the ears of a German Shepherd puppy to go up and down as they mature however I highly suggest you check out ear taping options if your GSD puppies ears are not up completely by 4.5 to 5 months because time is running out.
Here's where you can find out more info on this right now in this site:
German Shepherd Ear Taping
Good luck.
Join in and write your own page! It's easy to do. How? Simply click here to return to GSD Questions Form.
Sign up for promotions, news, discounts, and the chance to win prizes for you and your German Shepherd