One Mitzvah Leads to Another
by Yvonne
(Sandpoint, Idaho)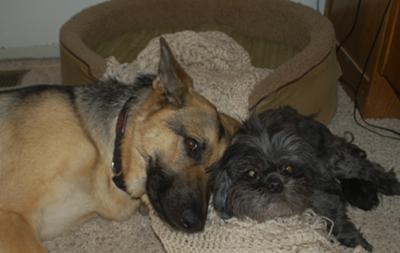 A year ago I dropped by our local animal shelter to make a donation and say hi to a friend who was the manager. I was leaving early the next morning for a quick business trip to the East Coast, so when our friend offered to give a tour of the facility I said OK to a quick one.


She and her volunteers had worked very hard, everything was immaculate. In the cat kennels, I wanted to take all the kitties home, even though I am allergic!
Then we went to the equally spotless and large dog kennels and I held my breath. Sitting, calm but very alert, was bright-eyed eight-month-old German Shepherd female.
My husband and I had been looking for a GSD having moved to a forested 22 acre ranch in the Pacific Northwest, a perfect set up for a large dog.
But we'd been to busy to do the careful investigation to find a qualified breeder (NO pet shops or backyard business!) or search at shelters. And here was what appeared to be a gorgeous specimen just waiting!
My Alsatian grandmother always had a pair of "Alsatians" at her home, I grew up with them and adored the breed. But I was leaving town and my husband and I hadn't talked about an adoption so soon and... my friend nodded to my excuses and put my name on the kennel door. "This dog was just dropped here. She is going to go fast."
Well, to make a long story short, when I return from New York two days later, my husband had a surprise for me. We took "Friedericke" to the vet for spaying and he confirmed that she was an extremely healthy specimen. She was introduced to our 11 year old Shih Tzu and they made friends immediately.
She is the smartest girl, very serious about her 'duties': guarding the door when we shower, running to the window to check out anyone who comes up her driveway, and sniffs out moose or deer (but obediently does not chase them). She's also a big cuddly goofball when 'off duty.'
Lesson learned: there are many GSDs (mixed and purebred) abandoned. Introduce yourself to your local shelter, support them, and let them know what you're looking for. The most grateful, wonderful addition to your family may come your way. We thank God for ours.