Orion, to our eyes: "The BEST GSD ever"
by Jessie
(Bloomington, MN)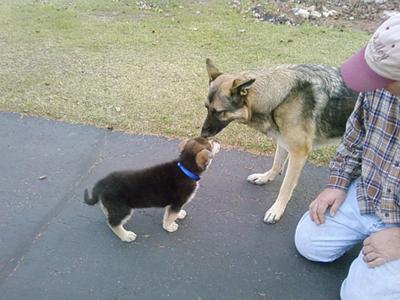 New Kid on the block
We got Orion when he was 3 months old, my husband and I had been considering getting a puppy for us and for our 6 yr old boy. We debated on what breed to get that would suit our family.
Our neighbor has a 6 yr old GSD and she is just a sweetheart, after seeing how good "Summer" played with our son, we knew that it had to be a GSD!!!
Then we got "Orion", he has turned out to be a great dog, for us and my son. What can I say? We are in love with the breed, we couldn't have asked for more...