Our 1 year old female GSD, Heidi
by Craig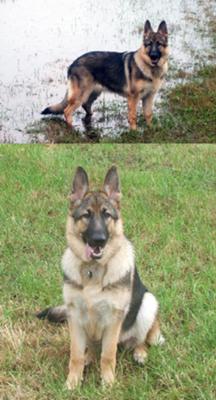 Here are some pics of our 1 year old female GSD . Her name is Heidi' she is the friendliest dog Ive ever known .
She is good with people but not with strangers who come to our door .
We bought her off a breeder when she was 9 weeks old and she has been house trained from day one .
She is a real member of our family and we hope to have many years being her friend .

Join in and write your own page! It's easy to do. How? Simply click here to return to GSD Stories.
Sign up for promotions, news, discounts, and the chance to win prizes for you and your German Shepherd