Our 2 Year Old GSD Named Sadie
by Mr and Mrs Anthony Bevilacqua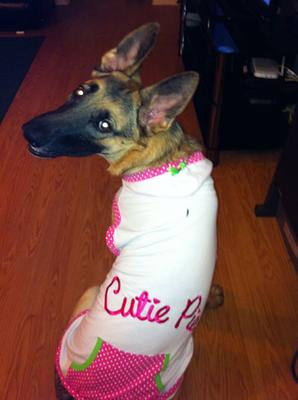 This is our 2 year old GSD named Sadie. Sadie is a very intelligent strong dog.


She was hit by a car at 11 months old and survived with no broken bones or any other deadly injuries.
Sadie is very obedient and protective over our family. She loves us unconditional and the feeling is mutual for us !
A mans best friend is a GSD!
Sadie Bevilacqua
Total German Shepherd
:
Hi Anthony,
Thanks so much for sharing your story and photo of your beautiful German Shepherd female, Sadie with us. I am so relieved to hear she suffered no injuries after being hit by a car. She's a very lucky young lady because it could have been so much worse!
She is quite a beautiful German Shepherd and looks like she has quite a sense of humor and style too! The shirt says it all I think! Yeah, she knows she's looking good! ;)
Continued success with her in the future and keep us up on her as she grows up. It's always nice to see updates via photos and posts later on down the road on all our German Shepherd buddies and their families!