Our Amazing GSD, Shelby
by Donna Paul and Shelby Weavers
(UK)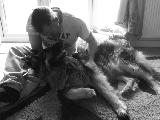 Shelby the GSD
This is our amazing GSD Shelby everybody who meets him loves him. He has helped many people who had a fear of the breed because of his gorgeous face lol


we are so proud to have him and he is 3 this month. hope you love him too
Total German Shepherd
:
Hey Donna,
Your German Shepherd Shelby is adorable. He is such a handsome fella. Thanks so much for sharing him with all of us here.
And the pictures of your German Shepherd Shelby are great too! We always love seeing everybody's GSD's. ;)
Maybe sometime in the future you can send us a breakdown on how he's maturing and how he is doing. We love to hear all their stories.
German Shepherds are great dogs! I know you'd agree - especially with such a handsome boy as your German Shepherd Shelby!! ;)
Continued success with your boy Shelby - he is definitely a great member of the breed.