Our beautiful German Shepherd Dog Max, Rest in Peace
by Angela Polgreen
(Suffolk, England)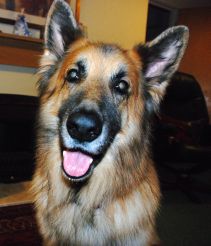 Max
We had a lot of names for Max, they were maximoo, moo moo, Mr big paws, dopey dog and maximus dogimus. We sadly lost him yesterday after a sudden illness. I cannot put into words the grief my family feel after loosing such a beloved dog.
He gave us all 10 years and 10 months of pure joy, he was loving, noisy, daft, noisy, he used to talk all the time and we loved it. You always new when he was around as he always had something to say.
When we went to see the litter he was in, we had the privilage of being picked, we were his not the other way around. He loved us all and when our daughter came along he was a wonderful protector and big brother to her.
Over the years he often thought he was the boss, we even bought a larger bed as he liked his sunday morning cuddles on the bed with his whole family.
When we brought another GSD home for him to play with, he reacted wonderfully and taught him the way of things, how to open christmas presents, how to open doors and how to give the best soppy looks to get treats and cuddles.
He was our big boy, our heart and best friend and he has left a big gapping whole in our world. We will love you forever beautiful boy, rest in peace see you in our next chapter.
Total German Shepherd
:
Angela, Let me say right up front that I am so very sorry for your loss of your German Shepherd Dog, Max. I am so very sorry for your loss - it is a shame you didn't get the chance to have more time together with Max. Your memories will stick with you forever.