Our beloved German Shepard Gunner, RIP
by Linda Bergman
(Gibsonia Pa)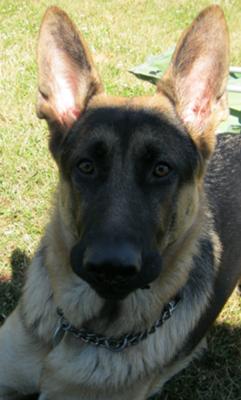 Gunner
Gunner was full of life with a big lovable heart...
His eyes were beautiful with nothing but excitement and wonder about the world. I will miss his funny ways and his curiosity.
He never missed a beat when it came to watching out for his family. Our home will never be the same without him. Our hearts are broken.
Gunner was my friend and I was his. Unfortunately we lost him at just the age of one....One amazing year with one amazing dog...
I know we'll be together again in heaven....I will never forget you..
LOVE mum,daddy and sissy
Total German Shepherd
:
Linda, I am so very sorry for your loss of your German Shepherd, Gunner. Let me say right up front that I am so very sorry for your loss. It is so very hard to lose a wonderful German Shepherd at any time but your memories will help you through it all. Your memories will stick with you forever and help through your grieveing process. But thank you so much for sharing your story about your German Shepherd Dog, Gunner, here with us all.
And to our readers, thanks so much for reading this story and please come back often to see what else is going on in our growing German Shepherd community. And if you get the chance please leave some comments, place a video of your own or tell us your own German Shepherd story in our sharing section. And come back often as things will change daily.
So now it's all up to you readers. Share with us as you'd like, read the stories of others, watch a few German Shepherd videos, look at some German Shepherd pictures and see what experiences others have had with their own GSDs. Thanks for visiting us here at Total German Shepherd.