Our Beloved, German Shepherd Smokey
by Monte Pack
(Canada)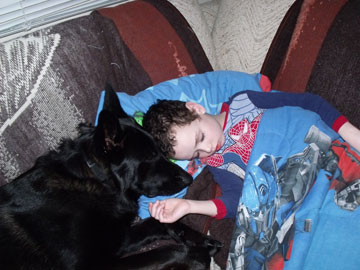 Here is yet another pic of our beloved Smokey. As you can see, he loves my kids very much.


My son wasn't feeling very well in this picture and slept a lot on the couch. Good ole Smoke wouldn't leave his side.
Smokey is about 2 years old in this picture and his main goal in life seems to be to just be around my kids. He is very protective of them and usually sleeps in their rooms every night.
There are many breeds that like to cuddle, but if you want one who will unconditionally love and protect your children, there is no better choice than a German Shepherd.