Our Black German Shepherd is a Work in Progress!
by JAMES
(LOUISVILLE, KY)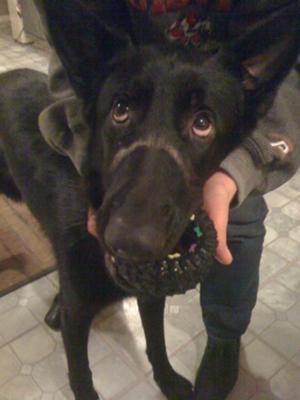 1ST DAY
On the Saturday before thanksgiving, I nervously traveled to a shelter in Ohio to meet and possibly adopt a Black German Shepherd named Duke. I had been searching for weeks to adopt a new GSD, after the sudden deaths of my two GSD'S last year.


I repeatedly was informed that the shepherd I was interested in adopting, had already been adopted, I was almost ready to end the search. The dog I was scheduled to meet was only eleven months old and had already been unsuccessfully placed in six homes.
Homes included in his adoption journey were located in Missouri, Illinois, and Ohio! The adoption agency informed me he was just a little too much for the previous homes to handle, and he had just not found the right home.
It was a cold and foggy as I nervously waited outside in the adoption facility parking lot for duke to arrive. Eventually, a dark SUV with tinted windows pulled into the parking lot next to where i was standing.
I heard an extremely aggressive and deep bark originating from the vehicle. It visually rocked back and forth, and the glass vibrated! The dog in that SUV wanted me to get back! The event was so threatening; I got in my truck just in case the SUV glass shattered.
A woman jumped out and locked the doors! I immediately asked her, "Is the animal in that vehicle a black German Shepherd named duke by any chance"? Her
reply was "you must be James from Louisville"!, "so are you ready to meet Duke"?
Ok, was officially scared to death! She opened the door and out came this lanky black German Shepherd, who quickly advanced to check me out. Armed with dog treats and instructions on what to do, she gave me his lead and he began pulling me around the facility.
As I got him to settle down somewhat, I noticed the hair on his nose had been worn off from being muzzled, his pulling and lunging was less than desirable and he was under weight. He would occasionally look at me as if to say "please don't leave me here", I sensed he was not really a vicious dog, but rather just a bully who was poorly trained and possibly abused to some degree.
We returned to the vehicles and the woman looked surprised when I said, "I would like to give him a chance". Well there is a reason I'm his seventh home. He is a Working Shepherd and requires training and working every day.
He is lighting fast, extremely intelligent, and ultra protective! With weekly instruction from one of the best aggression dog trainers in Louisville; doing obedience, agility, and social training, duke is quickly improving and has been provided a seventh and what was probably is last chance at life!
He is developing into the best German Shepherd I have ever owned. He is a work in-progress! I love this Dog!