Our Black German Shepherd Rescue, Caesar!
by Deb Yee
(Cincinnati, Ohio)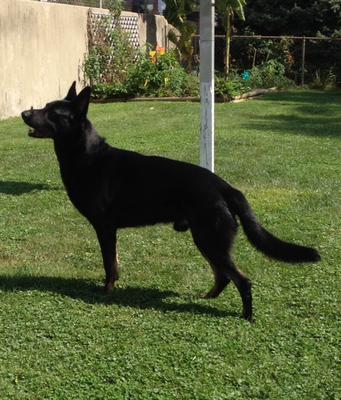 Our Black German Shepherd Caesar!
We have been wanting to get a shepherd for quite some time. Our local SPCA had a courtesy listing for Caesar who was in foster care. We were the lucky family to adopt him and he has been a wonderful pet!!


He has a wonderful temperament. He's about 3 years old and does need some training. Due to his size I can't control him on a leash if he spies a squirrel or another dog. We're working with him.
Total German Shepherd
:
Hey Deb,
Congratulations on your new pet and thanks so much for rescuing this handsome black German Shepherd Dog. He is just lovely!! What a fine companion he will make you once he gets trained and fully settled :)
Be patient with him and work with him everyday and one day you will just wonder how you ever lived without him before :) I wish you nothing but the best and loads of success with him. Please keep us posted on his progress! And good luck too!