Our Black German Shepherd, Sonny Boy
by Margaret
(Long is, NY)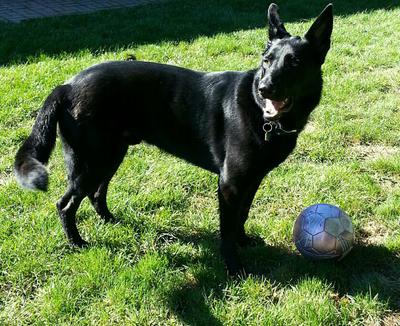 Our Black GSD, Sonny
We found Sonny at a local shelter shortly after our 6 pound chihuahua mix, Gizmo, passed away. We were amazed at how big a hole that little guy left in our hearts and our home and my son and I visited the shelter just to "look".


We saw an adorable black lab puppy and when we told hubby about him he said "go back and get him before he's adopted, he won't be there long" assuming that such a popular breed would soon be scooped up.
Well we got there and were told that the lab had some food aggression but why not check this shepherd/lab mix out. We agreed and the worker brought in the most adorable little bundle of energy you ever met! Of course we signed the papers immediately (I had always wanted a shepherd but hubby said they shed too much).
When we picked him up the following week the shelter manager told us that he had a tattoo in his ear and was likely a pure breed. Now two years later that observation is quite confirmed, not only by our vet, but also by his classic shepherd behavior.
Yes, a lot of shedding too, but Sonny's dad is happy to brush him every few days. A beautiful addition to our family, he loves to play soccer and play with "sticks".