Our Brave German Shepherd Queenie
by Debbie
(Ont Can)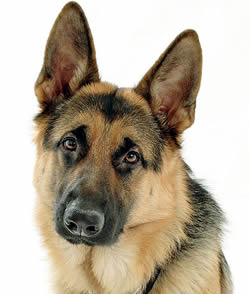 When I was a child we lived in the country and had an apple orchard all around us. My father and brothers were Diesel mechanics and fixed transports on our property as well as other vehicles. We had paths that bordered our property.
One night while we were all sleeping we were woke up by the sound of barking from our shepherds, Queenie our female and her son Trucker. Our dogs stayed in our back room attached to the house and the door was always to remain open so the dogs could come in and out as they pleased.
More frantic barking echoed through the house and then was followed by the sound of shattering glass. As I was only about 8 yrs. old I was scared to death. We all came running from our rooms and opened the door that led to the back room, to our horror the window was shattered because the door was closed.
My dad went outside and seen that Queenie was no where to be found. He called for Queenie and then we heard yelling and then the squealing of tires. Dad called some more for Queenie afraid of what may have happened to her. Finally to all of our relief she came around the corner of the house panting.
My dad then went out to investigate only to find that these people had come on our yard in the darkness to steal diesel fuel from the trucks in the yard, their gas can still sitting by the truck with the hose sticking out from it. To all our relief Queenie only suffered a small scratch on her nose from her jump through the window. Needless to say she got a treat for her troubles!!