Our Families GSD Obsession!
by Kelly Burkhardt
(MD)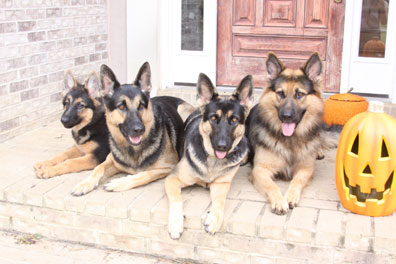 These are my four GSD's. They are Sabre (15 weeks), Captain (6), Bella (Sabre's Mom-2 1/2) and Doobie (2).
They are fantastic, socialized family pets. They are being raised with four children so they get loads of exercise!
They are trained in many areas, including tracking, air scenting, personal protection, narcotics detection and explosive detection. They work weekly with our local Tri-County Working Dogs group.
I have a bit of a GSD obsession!
Thanks,
Kelly