Our "Gentle Giant", My German Shepherd Chance
by Jaime Johnson
(IN, USA)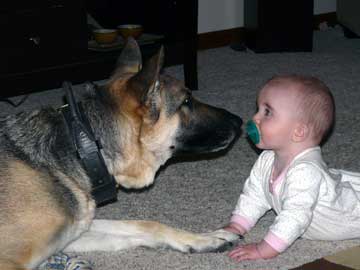 This is our 2 year old German Shepard "Chance". He is very good with kids, he absolutely LOVES people.
From Jumping on the trampoline, catching a football/baseball/basketball, going to base ball games or sleeping in my son's bed; he is always right by someones side.
In fact I has a hard time finding any photo's where he wasn't in them! Chance is a good testament to the misunderstood breed. This is our "Gentle Giant".
Enjoy!
Jaime