Our German Shepherd Dog Mix, Berkley
by Darla Bailey
(Odessa, TX)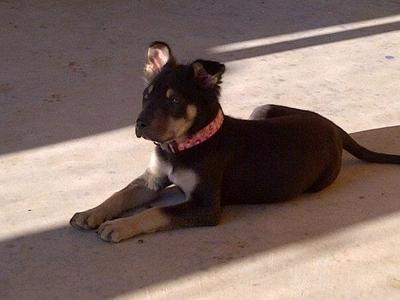 Berkley, two weeks after we got her...
Berkley wandered into our shop on Leap Day of this year. We estimated her age between 10 - 12 weeks. My daughter insisted we keep her so we took her to the vet the next day, she weighed 16 pounds then.


Last week she had her shots and weighed in at 77 lbs. I think she is probably pushing 80 now.
We have no idea what mix she is but looks a lot like the GSD except for her 'Monkey" Tail.
Total German Shepherd
:
Hey Darla,
Thanks so much for sharing your beautiful Berkley with us all. Yes, there is definitely a lot of German Shepherd in her. : )
She is a big girl no doubt. And so pretty - & what a nice ear set she has too. I love her coloring.
Make sure you socialize her all that you can - take her with you to as many dog friendly places as you can, keep her on the best food you can afford, keep her trim, give her plenty of exercise, keep her up to date on her shots & worming and she should be fine.
Well, I wish you nothing but the best with her. She is a young dog and should make you a fantastic companion for years to come. And she'll make the best exercise partner you ever had too. Many people forget this fact too!
Best of everything!