Our German Shepherd Heidi is Truly a Gem
by Larina Martin
(Vancouver, WA)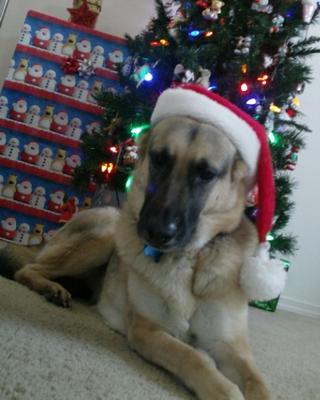 "Heidi" in Christmas in July! Heidi is a pure breed German Shepherd. She is now 6 years old, will be 7 in November!
I adopted her when she was 3 weeks old, brought her home at 7 weeks in Wallace, Idaho.
We've done a little moving around, now we reside in Vancouver, Washington. She is a complete family dog with a sense of humor I've seen in no other four legged kids.
She lives for her yellow ball and to please our small family of three. Every day we laugh at her facial & body expression and oh my what big ears you have, although they are hidden in this Santa hat.
She is truly a gem and we feel blessed to have her in our lives.