Our German Shepherd Jess is a Very Clever Dog
by Annette Swift
(UK)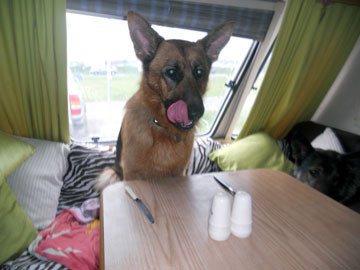 what's for dinner ma?!
This is the photo of my GSD Jess in our caravan waiting for her dinner.


She is 22 months old and a very lively clever pup. She has basically taken over our lives, and we wouldn't have it any other way.
I hope you like the photo
Thanks
from
Annette Swift
UK
Total German Shepherd
:
What a cute picture of your baby, Jess. You are definitely right, German Shepherds are incredibly clever, intelligent, smart - you name it. Just when you think you've seen it all, they'll come up with something new to impress or entertain you.
I can personally say, as long as I've been around German Shepherd Dogs, that I don't think I'll ever see it all because these are thinking dogs that not only do tricks but they can even create them on their own too. Exactly as your girl Jess has done here.
Please keep us up on her successes, growth, development and everything else as she grows up. Such a smart girl, your German Shepherd Jess, is everything you'd want in a GSD - good looks and brains too!