Our German Shepherd Puppy, Dolce
by Bob
(Rhode Island)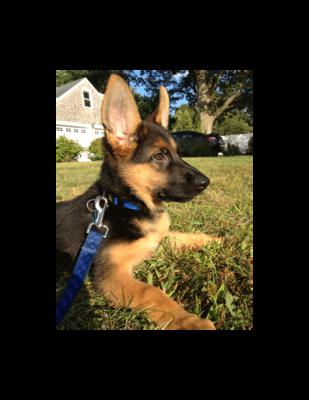 German Shepherd Puppy Dolce at 10 weeks
Dolce is now 11 weeks old and came from Von Den Brookfields in New Braintree, Mass near historic Sturbridge Village. From day one she has been a ball of fire and is afraid of nothing, barking at even the biggest dogs.


She goes to day care Monday-Friday so is already well socialized and very friendly and affectionate. We got her after we lost our Bella a few months ago at just 2 years age to lymphoma.
Total German Shepherd
: Bob, Thanks so much for sharing your beautiful new German Shepherd Puppy Dolce with us. She is gorgeous!! I absolutely love the picture you have sent of her.
So if she is a ball of fire already then you have no where to go but up! Definitely get her into some sort of training program if you can as soon as possible - and if she is high drive agility might be a good option as well as Schutzhund.
But the fact that she is already being socialized on a day to day basis, that definitely will help her adjust to things so much faster as an adult. And you'll be well on your way to having a stable and well adjusted dog - which is the best of all worlds.
Good luck with your precious new GSD puppy. I wish you loads of fun and enjoyment and many more years to come.