Our German Shepherd Puppy Kimba
by Glenn Merkley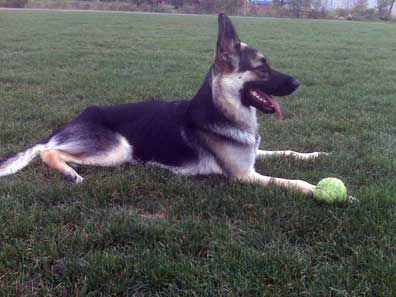 Hello, this is our KIMBA. Born December 20,2010. We took ownership March 17th 2011.


She is extremely fussy on what she eats ( like it today/hate it tommorrow) she is too skinny for my liking, GSD owners have told us that will change as Kimba ages.
I work for a meat wholesaler and supplement her diet with my cooking (she loves sirloin tips cut in cubes mixed with mashed sweet potato/bananas or apples) no fussiness there.
Thanks Glenn Merkley
Total German Shepherd
:
Hey, Glenn,
Thanks so much for taking the time to share your German Shepherd puppy Kimba with us. She is absolutely gorgeous by the way.
And yes, she will fill out more once she gets to be about 2 years or so, so if she looks skinny to you now, that is very normal for GSD puppies. As long as she is happy, playful and energetic I would not worry too much about her being a little thin.
Good luck with her and keep the updates coming in later on. And thanks again.