Our German Shepherd Rescue Hank is Truly a Blessing!
by Kim & Jim Kobelski
(CT )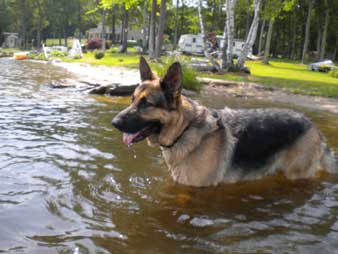 Hello! My name is Kim Kobelski and I would like to share with you my story of our GSD.


This is Hank! Hank is a three year old male German Shepherd and he is a very happy pup! We adopted Hank from the Connecticut Humane Society last September, 2010, and he has been living with my husband, Jim, and I ever since.
When we adopted Hank at the age of 2 1/2, he weighed 78 pounds. We decided that he needed to look a little healthier! Since he has been living with us, Hank now weighs 97 pounds, which our vet says is perfect for him!
Hank made frequent trips to the vet when we first brought him home, as well. He was sick from being in the pound (he had kennel cough and ended up with a GI bug the next month for which he required hospitalization) and had a cancer scare too, but the vet ended up finding no cancer and Hank is finally a healthy, happy boy!
Hank is very well behaved and has the greatest personality. He loves to run and play and has made a lot of new friends, especially his best buddy Charley, who is (we believe) a Shepherd/Retriever mix and was adopted from the pound by my parents two years ago.
Hank loves to swim in the lake and play with our cats! He also loves chasing turkeys and going for rides! We live in the woods and have a big yard for him to exercise in. Hank and Jim run in the woods everyday, but at night Hank enjoys curling up in his favorite chair!
Sometimes he'll go outside just to lay on the front porch and see what's going on. He makes our home feel safe and he has brought such great joy to our lives. I am so sad that he was left at the Humane Society, but I believe that things happen for reason! He is truly a blessing!
Thank you for allowing me to share my story with you and thank you for the beautiful website and information about German Shepherds. I love my Hank and couldn't picture life without him!
Sincerely,
Kim & Jim Kobelski