Our German Shepherd, Riley
by Lizzie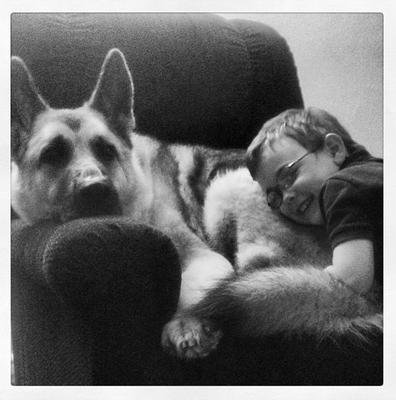 GSD Riley in action
This is Riley. He is 6 years old. He is a sable German shepherd dog, he lives to chase squirrels and eat bumble bees and play all day with the family.


His talent is howling with the fire trucks, ambulance and police cars when they drive by. He is loved by all and is a proud
member of the family.
**Lizzie**
Total German Shepherd
:
Hey Lizzie,
Thanks so much for sharing this great picture of your German Shepherd, Riley with us all here. What a great picture!
He sounds like a really cool dog! If you get the chance in the future, please feel free to send us an update on him too. We'd all love to hear how he's progressing and maturing. Maybe even send us a video of him howling too ;)
Thanks again for sharing your handsome boy with us!! German Shepherds Rule!!