Our German Shepherd Rosco "Mammys Boy", RIP
by Claire Cooper
(South Wales UK)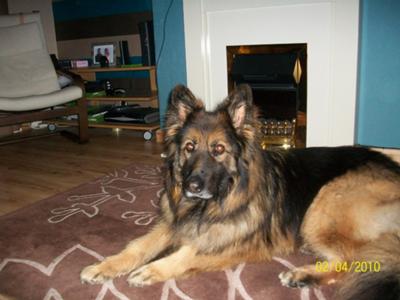 My heart is truly broken,
I love you,were the last words spoken,
I could not bear to see you so,
I knew I had to let you go,
The last battle it could not be won,
and now your life on earth is done,
Your memory will never fade,
oh how I wish you could have stayed,
I will keep you safe within my heart,
until from this world I depart,
promise you will wait for me,
until then my boy run fast and free.
Mammy
My darling boy went to sleep 3/03/11 at home in my arms. He had suffered from hip dysplasia all his life, but managed well on limited exercise and metacam pain relief.
He developed but overcame furunculosis a couple of years ago, but less than 2 weeks ago I noticed a lump on his chest, between his legs, and a biopsy confirmed cancer. A further ultra sound scan revealed that his spleen, liver and lungs were affected, and was told that he had a very short time to live.
The day of his scan he began to cough, it got worse at home and he became weak, and when he managed to stand he would cough up blood. He could not lie on his side or get comfortable, and so with a broken heart I made the call to the vet, who came to our home and set my beautiful boy free.
Rosco the house is too quiet without you, there is no barking at the bus every hour, Layla (springer spaniel) wonders where you are, she is lonely. I miss the sound of claws on the wooden floor.
Dad, Heather, Sean and Rhys miss and Love you and as for me, well Mammys Boy, I will miss you always and Love you Forever, Thank you for being in our lives, you were such a good boy.
From your broken hearted family. Till we meet again xxxxxx