Our German Shepherd, Winchester
by Fred Phillips
(USA)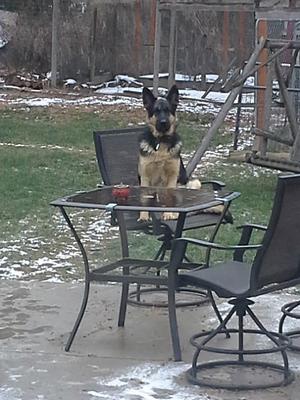 what a cute German Shepherd Winchester is
I have attached a photo of our GSD named Winchester. We were having our Thanksgiving dinner and Win decide he was missing His dinner.


Win joined our family when he was 4 months old, one of 3 GSD being given away at a yard sale. not sure the reason but i did not hesitate taking him. he is 4 years old now
Win has been a wonderful dog (well maybe not so wonderful during the first year, 4 hoses, a drip system, and a dozen gloves, used for chew toys)
we live in a very rural area,, Win is a farm dog has the run of 80 acres, and is an outside dog. He keeps the animals from our garden, and plants. (well maybe not all the time)
He loves rideing in the back of my work truck, on the hay trailer, and on the 4 wheeler. Our family has had many types of dogs over the years, but i believe Win is the best. You could not find a more loving, dependable, nicer looking animal.
Total German Shepherd
:
Hey Fred,
Thanks so much for taking the time to share the story of your wonderful German Shepherd, Winchester, with us all here. He is one great looking GSD, BTW!!
He sounds like he has a wonderful life there with you on your farm - what a great place the world would be if every dog had a place to live like that. Way to go and I wish you all nothing but the best with him in the future. And if you get the chance to send us some more German Shepherd pictures and stories that you'd like to share, we'd all love to read those too.