Our GSD gets jealous when my wife and I are intimate.
by Robert
(Montrose, CO)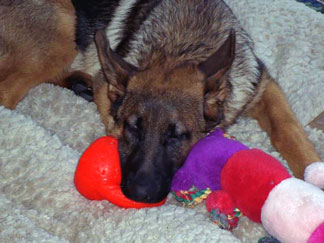 My wife and I have a 2 year old German Shepherd that is extremely intelligent, he learned at a very early age to open doors in our house both pushing or pulling after unlatching the door he wants into or out of.
He's a wonderful dog with our 4 year old as they are the best of friends.
Our main problem is that when my wife and I are intimate in any way he gets jealous and starts running around, whining, howling and barking or jumping on us until we stop, then he's fine.
If we toss him out of the room, he let's himself back in and if we throw him in the yard he barks and jumps on our bedroom window potentially tearing up the screen.
Has anyone else experienced this?
I've had German Shepherds most of my life and only this one and the previous one has done this, but our current Shepherd is far worse than the last.
As a side note, we have a Black Lab and Lab/German Shepherd mix and neither one of them could care less what my wife and I do.
Any suggestions on how to curb this behavour would be appreciated.