Our GSD/ Husky Mix Acer's Pictures
by Nancy Ames
(Wichita, Ks.)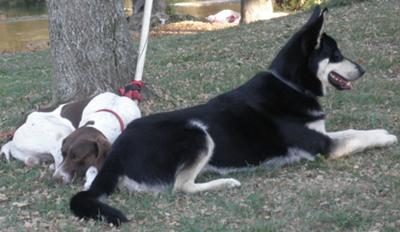 Acer (Black one) and Rocky
Acer is a beautiful dog, of course, so I decided to post a couple of pictures. He loves to play in my garden and watch my pond fish swim around. he loves water but has not tried to go in the pond yet, and I hope he never does!
I have a path going along my flowers and he actually follows it! So cute! We live in Kansas so we do get snow, which he loves. at least he did last January when he was tiny and his belly was in the snow.
Acer is 28 inches tall at his shoulder and 80 pounds, so he is getting big, the funny thing is he loves small things, like cats and tiny dogs and small children! My boys are grown so it is odd that he loves the 3 year old next door! And he plays very gentle with small anythings, its very cute.
But when it comes to his big "brother" Rocky he is very rough, we monitor them so Rocky is not hurt. Acer is 20 pounds heavier and 5 inches taller than Rocky so we have to watch them, not really sure what else to do. My hope is for everyone to have a wonderful animal family member or member's like we do. Acer is a GSD/ Husky mix