Our Korean Kill Shelter German Shepherd
by Scott
(Tongducheon, South Korea)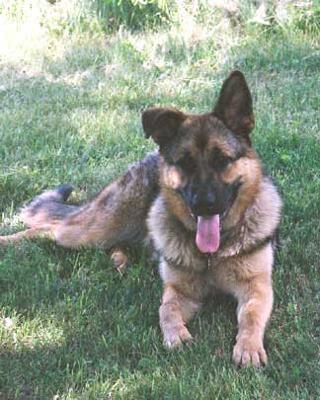 My wife is in the Army, and I am a former Marine, now a contractor for the DoD. For easter this year I really wanted to get a new puppy for my wife givin that we are away from family over here in Korea.
I prefer to get my dog from a pound to give them a second lease on life, so we went to a local "kill shelter". Now in a "kill shelter", they put down a dog once it has been there for 10 days.
There is a huge population of stray dogs here in Korea. While roaming through all of the beautiful dogs, we found ours. A 1 1/2 month old Sable German Shepherd.
Now my wife didn't believe me that he was a shepherd givin her prior experience with "traditional" shepherd colorings and markings.
But either way, we took our puppy home and I went straight to the internet. Needless to say I was able to prove my point. Anyways, we have had him a month now and he is such a wonderful dog.
We named him "Ranger". Just wanted to share our story.
Sincerely,
Scott, Gabrielle, and Ranger
Total German Shepherd
:
Hey there, Scott. Good to hear from you all the way over in Korea. I just love the picture of Ranger - he is soooo cute! Thanks so much for taking the time to come here and share your German Shepherd puppy story and pictures with us all today.
And I'm so glad that he is healthy and out of that shelter now. Good for you both! And good luck with Ranger - he will make you a fine pet for many years to come.