Our loveable rescued german shepherd, Dillon
by Chris LaBar
(Scranton, PA)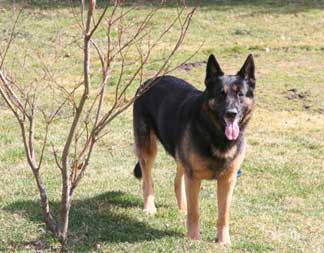 What a handsome man
This is Dillon and he's 4 years old and we believe he's a bi-color.
We rescued him from our local animal shelter in January of 2010 after our 13 year old german shepherd Maggie had to be put down a week before Christmas 2009.
This guy marched in the house liked he's lived here forever and required zero training. I believe in his mind he thinks he's hit the lottery. I know we think we did as well.
He's as happy and loveable as can be. He is a 105 lb. gentle giant !!
Chris LaBar