Our Loving GSD, Richard, RIP
by Angie
(Georgia)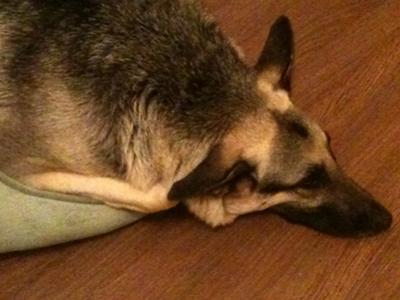 "And ever has it been that love knows not its own depth until the hour of separation"


We adopted an amazing, smart, wonderful sweet German Shepherd from Alcovy on August 5, 2006. He came with the name Richard, and we thought it was fitting so we left the name. He provided 5 AMAZING years of unconditional love and loyalty. We never had one complaint.
He was laid back from the day we got him, and the only time he had an accident was the very first day we brought him home. He was the PERFECT dog in every way. Even dog haters loved him. The story given to us was that Jennifer Pryor sponsored the litter of puppies he came from so the puppies were named in the Pryor's honor.
Richard was so intelligent. He was our best friend, son, brother, protector...He was family. Last Wednesday, after noticing for about a week that he was "under the weather", we took him to our vet. She told us he was extremely anemic with a PCV of 10. We immediately took him to get a blood transfusion.
In the meantime, he was put on meds. Every test came back normal, with the exception of the red blood cell count. His blood transfusion lasted long enough for us to find out, from 3 different vets that he probably had Leukemia. We were actually scheduled to do a bone aspirate this past Monday at GVS. By Sunday, however, his health deteriorated so much that we had him put to sleep.
We did not want him to suffer not even one bit and the vets assured us we did 90% more than most owners. He was uncomfortable, but not in pain and not suffering. I laid my baby boy's head in my lap and assured him that we all loved him and that he was perfect in every way, until the very end. Richard was the heart of our family. We are all so heartbroken.
We rescued him when our German Shepherd of 10 years, Jack, died. We did not think at that time we would be able to adopt so soon, but then we saw Richard. We were only going to make a donation in Jack's name. Two weeks later Richard was still on the site and we knew what we had to do.
I truly believe from the day that pup was born that he was meant for our family. We gave him all the love and attention we could. We wanted to honor Jack and show Richard he was deserving of a good life. We never raised a hand against him. He was an indoor dog his entire, short life.
Although we rescued him, I truly and honestly believe HE rescued US. He mended our broken hearts and showed gratitude every day. He gave us lots of sloppy kisses, hugs, and laughs. I am so thankful that we found him.
We are so devastated that we keep saying we will not look for another German Shepherd for a long time. I am sure Richard has different plans for us. He will let us know when it's time to open our hearts to another, knowing that we can honor HIM by giving love to another deserving baby.
I wanted to share our story with you because I feel Richard is deserving of such a memory. Thank you so much.
Angie Moore and Family