Our Loyal Companion, Our German Shepherd Sadie, RIP
by Kimberly
(Michigan)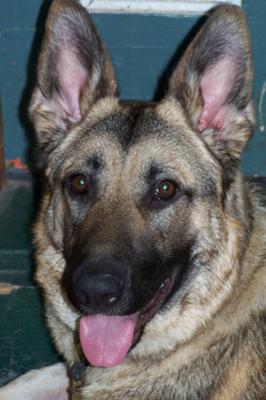 We acquired Sadie in October 2009 at eight weeks old. She was the last of an "oops" litter of German shepherd puppies.


She was the most intelligent, loyal, and
protective companion anyone could ask for. She learned all of her obedience commands by the time she was four months old, as well as many talented tricks. It took less than five minutes to teach her something new!
Sadie got out of our sight for a split second on March 15, 2010 and chased our cat across the road and was struck by a car. She suffered a broken ulna/radius of her right arm and a broken pelvis. We spent countless weeks rehabilitating her and getting her back to what would be her "normal."
This tightened our bond immensely. The X-rays of her pelvis also showed that she had bad hips and would have hip dysplasia later in life. After about six weeks, she finally got her cast off her leg and was able to get around fairly normal.
A few weeks later, she started to have chronic diarrhea and losing tons of weight. On June 26, we took her in to see the vet and had some
blood work drawn. We were informed that Sadie was
suffering from liver failure that was most likely heredity or genetic.
On the advice of our vet, we sadly had to make the decision to put Sadie down. She was only ten
months old. It broke our hearts and saddened us deeply. She gave us countless laughs and always amazed us.
We are truly grateful for the eight months of memories that she gave us and know she's waiting at Rainbow Bridge to be reunited with her family again. She is irreplaceable and we miss her dearly.
Total German Shepherd
:
Kimberly, first of all let me tell you how sorry I am for your loss. It is so very hard to lose a wonderful German Shepherd but your memories will help you through it all and your memories will stick with you forever and help through your grieving process. Thank you so much for sharing your story about your German Shepherd Dog, Sadie. I am so very sorry for your loss. What a wonderful dog your Sadie was.