Our New German Shepherd Puppy, Baron
by Dan
(Ontario, Canada)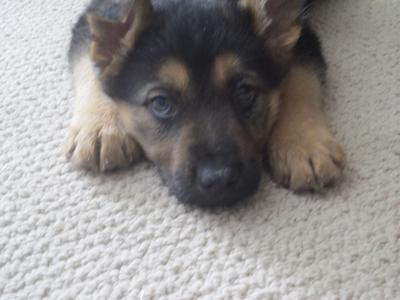 Day 1, German Shepherd Puppy, Baron
Jenny and I have been waiting, looking, and researching for a German Shepherd for about a year now. It finally paid off, when we found Baron a couple of weeks ago.


He is very smart, and loving. We are looking forward to many years with this little guy.
Total German Shepherd
:
Congratulations on your newest addition in your German Shepherd Puppy, Baron. He is absolutely adorable. And I love the pictures too - in fact I'm kind of prejudiced (I'll be the first to admit it) - I could look at German Shepherd Puppy pictures all day long I believe! ;)
That's wonderful too that his ears are up so young but don't be surprised if they fall later on though. That's absolutely normal. I wish you nothing but the best with him.
Make sure you get him all his shots and wormings and then socialize, socialize, socialize. And a puppy training class too is a great investment.
Good luck!