Our New German Shepherd Rescues, Rex and Roxy
by Doreen and Nate Bolognini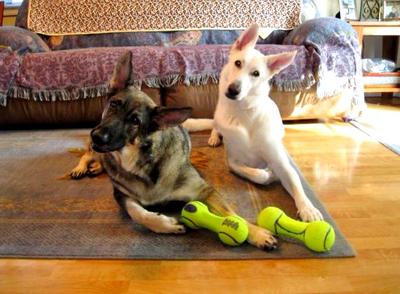 "Rex" and "Roxy", German Shepherd brother & sister
Good morning.


In May of this year, my husband and I were browsing the Petfinder.com site after our beloved "Enzo", a beautiful Husky/Shepherd mix crossed the Rainbow Bridge. Enzo was such an important part of our family for almost 15 years and we were so lost without him.
We happened to see a precious photo of "Rex" and "Roxy", a truly bonded brother and sister. After looking at so many photos and write-ups of beautiful German Shepherds, we were continually drawn to this pair. Shepherds have a way of looking so deep into your soul with their eyes, more so than any other breed we've ever known.
Rex and Roxy are a 3 year old brother and sister who were in foster care through the Echo Dog Rescue Group. They were looking for their forever home and we were fortunate enough to be their choice, traveling through a 6 leg transport team all the way from Dover, Ohio to Hamilton, New Jersey over the Memorial Day Weekend.
Rex, our "White Knight" is a care-free lover of life who seizes every moment. Roxy, our "Sable Queen" is a gentle soul who carefully watches over her brother. The special relationship that these two share has been revealed in so many unspoken ways. We are amazed each and every day at the way Rex and Roxy give their love so naturally, without ever expecting anything in return.
Our home is
filled with warmth, love and patience, and we have always made the unconditional commitment to open our hearts and do whatever it takes to keep our pets happy, healthy and loved. We could never imagine not sharing our lives with furry loved ones right by our sides.
After all, their never ending gratitude and wagging tails are all we could ever ask for. It is both an honor and a privilege for us to always make them feel loved and respected. They deserve nothing less.
We are pleased to share with you one of our favorite photos we recently took of our Rex and Roxy. Enjoy!
With our warmest thoughts,
Doreen and Nate Bolognini
Total German Shepherd
:
Hey Doreen and Nate,
Thanks so much for sharing your wonderful story with us. Rescuing dogs is a wonderful thing that I wish more people were doing but to rescue a pair at one time, now that's true committment!
Bless your hearts for giving "Rex" and "Roxy" a forever home. You are to be commended for that & I truly applaud your work as new German Shepherd owners. Thanks so much for what you've done.
One thing I can be sure of - "Rex" and "Roxy" will forever be in your debt and they will undoubtedly provide you with nothing but love for the rest of their lives. Please keep us up on how they're doing. Congratulations on your new kids!