Our New White German Shepherd In His New Home
by LISA HELKA
(MICH)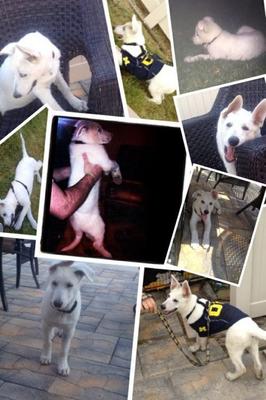 Pretty boy!!
A friend of mines husband purchased a white german shepard from an Ohio breeder, however she is afraid of dogs and he worked 16 hour days! Me being the dog lover I am I had immediate love for him, though I was done with dogs , (I had 2 teacup poodles and one had just passed after having her almost 11 years).


I recieved a call from her asking if i would give him a loving home, so... I did ...and he is the best most loveable and smartest 4 month old I have ever seen, he brought back my happiness and quickly became a member of the family,
I am a woman of 4'11 and used to tiny dogs, but he has brought out humor and absolute love just by being him, i never imagined such a big dog running my house , but he is my son now :) and he will live out the rest of his days being utterly and completely loved! He is our RAMBO!!
Total German Shepherd
:
Congratulations Lisa on rescuing your new son Rambo! You will be rewarded for your action for years to come.
And you will find that for the most part, larger dogs like the white German Shepherd, are often more mellow than their tiny counterparts, once you get past the puppy years. Rambo will be clumsy and goofy and silly as he matures so be patient and you will be rewarded with a dog that will love you completely, protect you wholeheartedly and provide you with years of joy, comfort and entertainment too.
Good luck to you and your new white German Shepherd puppy - they are wonderful dogs. Keep us up on Rambo's development down the road too. Here's to a long and happy companionship to the two of you for years to come.