Our Rescue Dogs - Black Prince and a Cedar Tree GSD
by Richard H. Knee
(Murphy, North Carolina)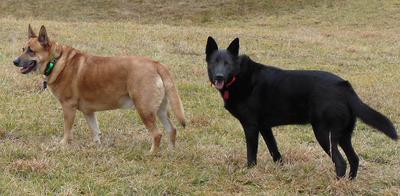 Ranger and Cedar in the open field
It was 5 years ago that I was looking at some property on a mountain road outside of town. There behind a power box was a small black puppy that had been abandoned in the cold weather of December. I brought him home with hopes my wife would let me keep him but with three cats in the house I did not hold out a lot of hope.


Within a day the little guy was making his way into our hearts. He was crated on the lower level and we soon discovered he was house broke. within 2 days - we guessed he was about two months old. Of course it was soon that we knew "Ranger" - we lived in Ranger, NC - was in his forever home.
My wife felt sorry for the little guy being all alone and he had more energy than we did for a couple in there 60's. So she found a playmate for him at a rescue center on the Internet. We drove 50 miles to the center and what we saw was a giant of a dog - mostly GSD but somewhat of a mix.
It has been over 5 years now and we have two 120 pound rescue dogs - the black on our vet advises is most likely pure GSD and "Cedar" the brown one is about 75% or more GSD. I can't imagine life without my boys - they ride the truck, walk the trails, help me in the garden and keep me company in the man cave.
I have many small grand children and they are protective of them but gentile - they have even accepted the cats - well almost. They are gifts from God!