Our spoiled rotten German Shepherd, Toby
by Michele Tallent
(Toledo, OH)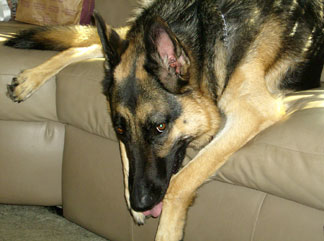 Attached is a photo of our German Shepherd, Toby. Toby is 3 years old and spoiled rotten! You will often find him sleeping on the couch or in our bed.
He loves attention, which usually involves sitting on your lap and will not leave you alone until he gets his fill. As most all German Sheperds, he is a very smart dog - too smart for his own good most times.
If we don't lock the doors while he is outside, he knows to jump on the handle and push it open to let himself back in. He loves to play with squeaky toys, play with the hose in the summer and loves to go for walks.
I take a water bottle for him when we go for walks, and when he wants a drink, he'll nudge my hand and look at the water bottle.
Thank you for meeting Toby.
Michele Tallent