Our Talking Monkey....
by Stacy
(Washington)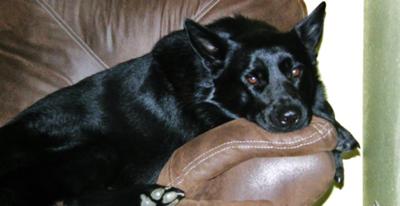 Our handsome boy, Monkey, got his name because he chants "ooh ooh ooh and ahh ahh ahh ahh" just like a real Monkey. In fact our Monkey never barks.
He has a temperament just like his older brother who is a black lab. Monkey has his own seat on our 7 seated couch. He likes to watch "The Office" and he loves his peanut butter cookies. He is a loyal boy and we are better because he is in our lives.....
What do you like most about black German Shepherds?
Their shiny black coats.
What is your favorite activity with your black GSD?
Running, Fetching Balls, Getting Loved.
Which is your black GSDs name and age?
Monkey will be 3 years old on July 3, 2012
Would you recommend black German Shepherds to others?
Absolutely, he has been a blessing to our lives.