Our True Princess, Rest in Peace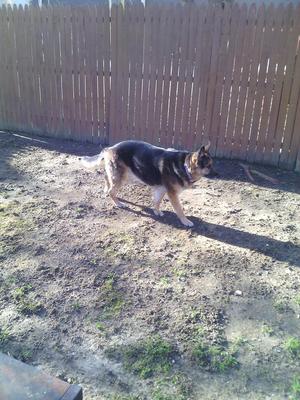 outside as she enjoyed
This day has been darkened by the loss of our beloved princess, she came to us on thanksgiving day 2007 as a abused 5 years gsd. i wanted to kill the guy that had abused her that bad but i was determined to bring her back to life and show her that she would never fear that again.


she loved my oldest son the most . you all know that once a gsd bonds it is for life. well today was the darkest day for him and the entire family.
8 years later and so much loved given, our princess found her way to the rainbow bridge. i pray that my skully girl was there waiting and that they will find happiness playing together with digger our husky and so many others that you all have lost as well.
we will miss you so much my princess to us you were a queen. i love you and will see you again . go run and play and never hurt again.
Total German Shepherd
We are all so saddened to hear of the loss of your beloved Princess. Thanks to you and your family for providing her such a wonderful home after such a bad start in life.
I know she loved you all and you her, and even though you are hurting right now, one day those tears of sadness will turn to tears of joy whenever you remember her. Give yourselves plenty of time to grieve - she was worth it :)