Our "Wee" Lap Dog, Meet Our German Shepherd Inca
by Terry McNamara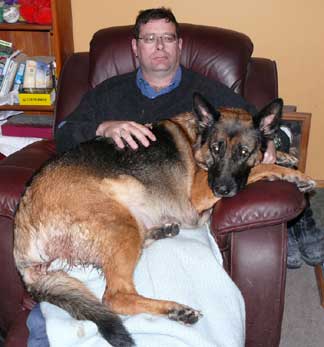 Love the recliner........
Hi, Here is a photo of one of our GSD bitches Inca (Holandra Levara).
She has just had 7 puppies and is taking some time out on her dad's knee.
She is our "wee" lap dog and visitors know that she will get on their knees if given half a chance LOL.
I have also included a couple of photos of her pups at 2 weeks old.
We love the breed and wouldn't have any other.
Cheers